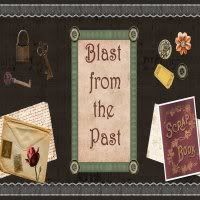 Time for another installment of Blast From the Past over at
Debbie's Digest!
Remember
last week's picture?
Well, this is from that same day/night, but is my with my parents! And a dog that I do not remember... but my parents I most certainly remember! I talk to them pretty regularly still and adore them ♥
(I really need to find an old picture of my sister... I know I have one SOMEWHERE)
Have any potentially embarrassing pictures from when you were little? Link up over at
Debbie's Digest!